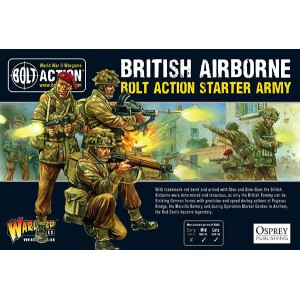 Display all pictures
Manufacturer:

British Airborne Starter Army

By buying this product you can collect up to 11 loyalty points. Your cart will total 11 points that can be converted into a voucher of 4,40 zł.
Opakowanie zawiera plastikowe, metalowe bądź żywiczne modele do gry. Modele są wieloczęściowe, do sklejenia i pomalowania. Farby i klej nie stanowią części zestawu.
Opis produktu w języku angielskim:
This box set contains - British Airborne Army 1,000 points army list:
Second Lieutenant &amp one extra rifleman (Veteran)* - 78 pts
Artillery Forward Observer* - FREE
Paratroop Section (10) NCO and 2 soldiers with SMGs, LMG team* - 169 pts
Paratroop Section (10) NCO and 1 soldier with SMGs, LMG team* - 166 pts
Paratroop Section (8) NCO and 3 soldiers with SMGs* - 127 pts
Vickers MMG team (Veteran) - 65 pts
Light Mortar team (Veteran) - 46 pts
Medium Mortar team with Spotter* (Veteran) - 75 pts
PIAT team (Veteran)* - 52 pts
Sniper team (Veteran)* - 65 pts
Flamethrower team (Veteran) - 65 pts
QF 6-pdr anti-tank gun (Veteran) - 90 pts
Total: 998 pts
* Made from the components of the plastic sprues included
With trademark red beret and armed with Sten and Bren Guns the British Airborne were determined and tenacious, as only the British Tommy can be.
Striking German forces with precision and speed during actions at Pegasus Bridge, the Merville Battery and during Operation Market Garden in Arnhem, the Red Devils became legendary.
This boxed set contains enough to make a 1,000 point army of plastic and metal British (or Polish) airborne troops in mid to late war uniforms.
The army list can easily be reconfigured to suit your playing style and when you are ready to expand your force there are plenty of options in the ever-growing Bolt Action range of miniatures and vehicles.
Check your kit and fix bayonets – it's time to drop in on the enemy...
Models supplied unassembled and unpainted
Airborne Painting Guide:
Pete Harrison of TWG fame brings us a fantastically simple but detailed guide on painting your airborne:
Paints Used:

Base
"
Typ Jednostki

Zestaw

Typ Produktu

Sets
Quick delivery

we ship within 24 hours of receiving payment

Return policy

you may return any bought item up to two weeks

Contact

phone : +48 12 422 11 37

in opening hours
Customers who bought this product also bought: