How can I add more products to my order?
If you forgot about something, and you want to add it to your already placed order, follow instruction below. It's very simple!
Basically, you need to place a new order with the items that you want to add – detailed instruction below:
1. Add products that you are interested in the cart.
2. Click the button CHECK OUT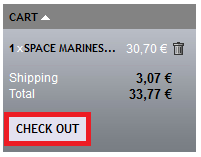 3. Login to the same account that you placed your previous order
4. In shipping step choose the "Add to my previous order"
5. Proceed to payment of your choice, and finalize your order
F.A.Q.
1. Do I need to pay extra transport fee?
NO.