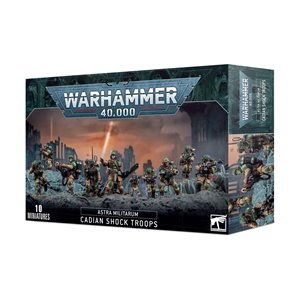 Manufacturer:

Astra Militarum: Cadian Shock Troops
Całkowicie nowa odsłona słynnych w całej galaktyce oddziałów Cadian Shock Troops.
99120105101
Notify me when available - log in

Towar dostępny w sklepie hobbystycznym przy ul. Lubicz 34/6 w Krakowie. Zarezerwuj i odbierz. Czytaj więcej w zakładce 'Zasady odbioru osobistego' poniżej.

By buying this product you can collect up to 6 loyalty points. Your cart will total 6 points that can be converted into a voucher of 2,40 zł.
DOSTAWA PREMIEROWA
Zamawiasz towar z dostawy premierowej. Zamówienie zamierzamy zrealizować w dniu premiery.
This multipart plastic kit builds 10 Cadian Shock Troops – the core of many Astra Militarum regiments. Each Shock Trooper is armed with frag grenades and a reliable lasgun, led by a Sergeant armed with either a drum-fed autogun, or a chainsword with a laspistol or bolt pistol. The kit also includes a variety of special weapons to equip your Shock Troopers – a flamer, grenade launcher, meltagun, and plasma gun – as well as a vox-caster for battlefield communications.
You'll also find loads of cosmetic options to ensure that no two squads of Shock Troops look the same – including variant poses, more than 20 different heads, sandbags, combat knives, a spade, a spare helmet, and plenty of bedrolls.
This kit comprises 131 plastic components, and is supplied with 10x Citadel 25mm Round Bases. Also included is a Cadian Infantry Transfer Sheet, with 597 transfers featuring numerals, squad markings, and Cadian regimental heraldry. These miniatures are supplied unpainted and require assembly – we recommend using Citadel Plastic Glue and Citadel Colour paints.
Typ Jednostki

Piechota

Product Type

Booster Boxes

Material

Plastic

Role

Troops
Odbiór osobisty w sklepie przy ul. Lubicz 34/6 w Krakowie
Wybierz opcję wysyłki 'Odbiór osobisty'. Możesz zapłacić z góry lub na miejscu. Otrzymasz powiadomienie kiedy towar będzie gotowy do odbioru. W przypadku produktów oznaczonych 'Wysyłka w 24 godziny' i dostępnych w żądanej ilości Twoje zamówienie będzie gotowe do odbioru od razu!
Czas na odbiór
Twój towar od momentu skompletowania będzie na Ciebie czekał do 7 dni.
Quick delivery

we ship within 24 hours of receiving payment

Return policy

you may return any bought item up to two weeks

Contact

phone : +48 12 352 39 80

in opening hours
Customers who bought this product also bought: