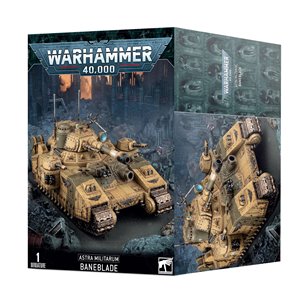 Manufacturer:

Astra Militarum Baneblade
Superciężki imperialny czołg, budzący grozę w sercach wszystkich wrogów. Możesz go złożyć w jednej z ośmiu różnych wersji. W najnowszej wersji zawiera dodatkową ramkę z wieżyczkami!
99120105107
Notify me when available - log in

Towar dostępny w sklepie hobbystycznym przy ul. Lubicz 34/6 w Krakowie. Zarezerwuj i odbierz. Czytaj więcej w zakładce 'Zasady odbioru osobistego' poniżej.

By buying this product you can collect up to 22 loyalty points. Your cart will total 22 points that can be converted into a voucher of 8,80 zł.
DOSTAWA PREMIEROWA
Zamawiasz towar z dostawy premierowej. Zamówienie zamierzamy zrealizować w dniu premiery.
Pudełko zawiera wieloczęściowy plastikowy model do sklejenia i pomalowania.
Z tego zestawu złożysz jedną z następujących wersji pojazdu:
Baneblade
Banehammer
Banesword
Doomhammer
Hellhammer
Shadowsword
Stormlord
Stormsword
Nowe wydanie zestawu zawiera również dodatkową ramkę, dzięki której zwiększysz ilość bocznych wież na czołgu!
This gargantuan multipart plastic kit builds a super-heavy Baneblade, a thundering tank that wields a full arsenal and is capable of absorbing punishment that would annihilate a small army. If you're looking for a lynchpin around which a mighty armoured column can be built, a super heavy tank is a fine choice that can shock your foes and soak up incredible amounts of firepower, sparing the rest of your army. It is armed with a mighty baneblade cannon and co-axial autocannon on the turret, plus a demolisher cannon on the forward hull, 2 lascannons on side turrets, twin heavy bolters on a forward hull turret, 2 twin heavy flamers in sponson mounts, and a heavy stubber in a pintle mount atop the turret. The sponson flamers can be replaced with another 2 twin heavy bolters, and extra sponsons can be added with additional lascannons and either twin heavy bolters or twin heavy flamers. That's a LOT of firepower.

You'll also find cosmetic options, like extra stowage, additional armour plating on the treads, tow hooks, fuel, and options for gunners and tank commanders in the hatches – including a choice of different heads. You can alternatively build the tank commander on foot, armed with a bolt pistol or laspistol in one hand, and a power sword or pointing hand in the other. No matter how you build it, your bits box will appreciate all the extra plastic left over.

This massive kit can alternatively build a variety of other super-heavy tanks:
- Banesword – armed with a quake cannon to punish vehicles and fortifications at extreme range
- Shadowsword– armed with a tank-slagging volcano cannon
- Doomhammer – armed with a titan-slaying magma cannon and troop-carrying capacity
- Stormsword – armed with a bunker-busting stormsword siege cannon
- Banehammer – armed with a tremor cannon to slow down aggressive opponents
- Stormlord – armed with a vulcan mega-bolter and large troop-carrying capacity
- Hellhammer – armed with a hellhammer cannon for close-quarters warfare

This kit is comprised of a staggering 381 plastic components and one Baneblade Transfer Sheet with 253 transfers. These miniatures are supplied unpainted and require assembly – we recommend using Citadel Plastic Glue and Citadel Colour paints.
Typ Jednostki

Vehicles

Product Type

Booster Boxes

Material

Plastic

Role

Lord of War
Odbiór osobisty w sklepie przy ul. Lubicz 34/6 w Krakowie
Wybierz opcję wysyłki 'Odbiór osobisty'. Możesz zapłacić z góry lub na miejscu. Otrzymasz powiadomienie kiedy towar będzie gotowy do odbioru. W przypadku produktów oznaczonych 'Wysyłka w 24 godziny' i dostępnych w żądanej ilości Twoje zamówienie będzie gotowe do odbioru od razu!
Czas na odbiór
Twój towar od momentu skompletowania będzie na Ciebie czekał do 7 dni.
Quick delivery

we ship within 24 hours of receiving payment

Return policy

you may return any bought item up to two weeks

Contact

phone : +48 12 352 39 80

in opening hours
Customers who bought this product also bought: